Business Club 2020 Launches At The Grand Palm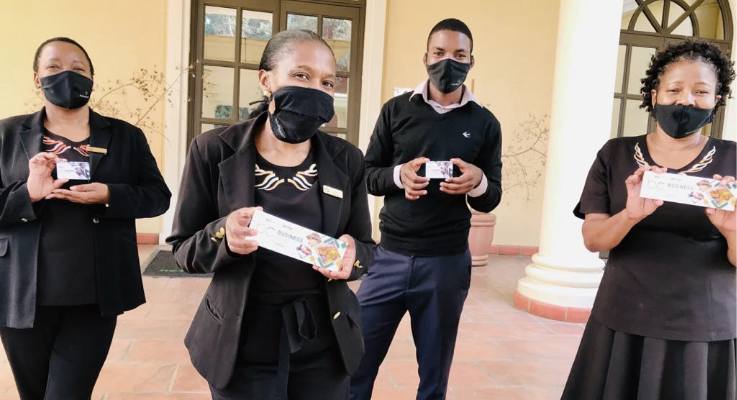 Thursday, September 17, 2020

Despite the disruptions caused by COVID-19, Peermont Botswana's new-look Business Club, the popular discount programme providing value for money since 2002, is launching at The Grand Palm in Gaborone. The Business Club is an exclusive Membership Club designed for the business or leisure travellers with big discounts on everything from accommodation to food, and big savings from our local partners and vendors.
'The Business Club is an institution and every year hundreds sign up,' says The Grand Palm General Manager Charlene Ludick. 'This year we internalised the programme, gave it a face lift, providing better value and a fresh new look.'
Guests looking to save money can sign up for The Business Club and will receive a new membership card as well as a voucher book with over P10 000 worth of savings – all for P1800. The vouchers entitles the bearer to a host of discounts from accommodation at Peermont Botswana's four hotels (Peermont Walmont, Metcourt Inn and Mondior all in Gaborone, as well at the Peermont Metcourt in Francistown), various restaurants, spa and conference facilities. The Business Club is also renowned for partnering with local vendors like Chem-Mart Pharmacy, I-Smart, Jack's Gym, Eye Express and Liquorama, to name a few, which all offer discounts ranging from 7-20% on selected goods and services.
'We've always been very proud of the Business Club, but this year we're offering a real outstanding product. With many individuals and companies impacted by COVID-19, now is the time to save money and you can't beat the value we offer with Business Club,' concludes Ludick.
For more information on Peermont Botswana's Business Club, visit: www.grandpalm.bw/business-club.
Alternatively contact the Gaborone Sales Office aon: +267 363 7777 or +267 363 7781 / 7595 / 7607 or email businessclub@grandpalm.bw. The Grand Palm is a Peermont resort. Visit www.grandpalm.bw and connect with us on Facebook, Twitter, Instagram, LinkedIn and YouTube.
Pictured:
The Business Club Team: Morwesi Mokokong, Neo Nkele, Balemogi Gaseitsiwe and Segametsi Maswabi