Early Bird wedding special at The Grand Palm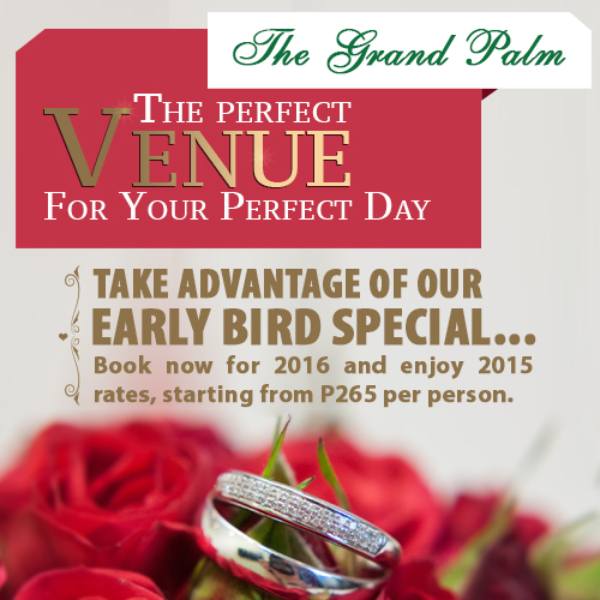 Tuesday, September 01, 2015
With a multitude of spectacular venues to choose from, deciding where to hold a wedding is likely to be the most difficult decision of the entire planning process. The Grand Palm Hotel Casino and Convention Resort just outside Gabarone now makes that decision easier by offering a variety of wedding packages designed to suit specific needs. The Grand Palm will make it happen.
For a limited time, wedding planners can now take advantage of the Early Bird special on offer starting from just P265 per person. The ever-popular resort is fully booked for weddings for 2015; all 2016 weddings booked for January, February, March and paid for by October 2015 will enjoy the special 2015 rates. The Early Bird package includes accommodation and breakfast for the bridal couple at the luxurious Peermont Walmont Hotel, accommodation discounts for guests ranging from 40% to 60%, buffet menu, venue hire, dance floor, podium, complimentary non-alcoholic welcome drink, a venue for vows and photoshoot location.
The resort has a selection of beautiful wedding venues. For outdoor and small wedding parties, planners have the option of using the Boma where guests can experience a traditional bushveld dinner in natural surroundings. The Okavango Suite can accommodate up to 250 people and can be divided into two smaller rooms for smaller wedding parties. The Moremi Suite comprises three separate rooms that can be opened out into one large room to accommodate up to 100 people. The Grand Palm works with reputable local service providers to ensure the décor and flowers perfectly complement the event. The award winning Gaborone International Convention Centre (GICC) also offer extensive technical resources and is equipped with state of the art audio visual equipment including multi-media capabilities and flexible lighting designed to suit all needs.
Besides delivering an unforgettable African wedding experience, the resort and surrounding areas offer a wide range of activities for guests to enjoy. There are two golf courses within a 15 km radius of the resort as well as an abundance of historical and leisure sites, including the National Museum and Art Gallery, The Kobeng Ruins, and Kgale Hill. Nature lovers can join an early morning or late afternoon game drive at the Gaborone Game Reserve and revel in seeing impala, kudu, ostriches, wildebeest, zebra, gemsbok, eland and even two rescued rhino. The game reserve boasts a wide range of birds in the diverse habitat of scrub, woodland and forest.
For pre-wedding pampering, guests can book into the Camelot Spa in the resort and enjoy the range of spa treatments offered by the professionally trained therapists. Facilities include Hydrobath, Vichy Shower, the Manicure and Pedicure Lounge, the Relax Room and six heavenly treatment rooms. The beautifully designed Camelot Spa ensures that guests leave feeling rejuvenated in both body and mind.
Conveniently located just a few minutes from the city centre of Gaborone and 12km from the Sir Seretse Khama International Airport, The Grand Palm Hotel Casino Convention Resort also offers a shuttle service, ensuring an easy commute to and from the resort, as well as special packages to shuttle wedding guests from the airport.
For further information visit www.grandpalm.co.za or call +267 363 7777, like us on Facebook or follow us on Twitter @peermont.