The Grand Palm Resort recognized for its green initiatives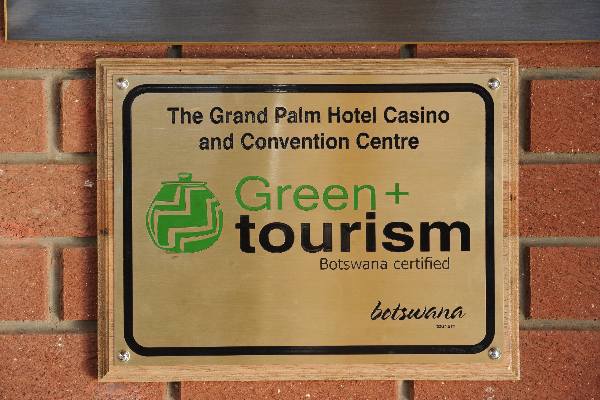 Monday, June 08, 2015
The Eco Certification award rating follows a detailed systematic evaluation of 'how hotels do business'. The process follows eco grading principles such as the hotel's implementation of sustainable management policies, looking at water usage and conservation and working with suppliers who use environmentally friendly products. Other principles a hotel must adhere to, include green and responsible marketing, minimizing impact on the environment by design, such as fire prevention, health and safety, use of solar, heat pumps, water conservation and recycling activities. Ethical regulations such as visitor impact and experience, maximization of local or district community benefits, contribution to conservation by supporting local conservation projects as well as nature interpretation such as Eco Tours, also form part of the evaluation process.
"We are pleased and very motivated by the award and accreditation," said Clive Tavener, Operations Executive Botswana. "We achieved a Green+ after we submitted a self-assessment evaluation. This award will definitely elevate the hotel's sterling reputation to inspire other local tourist destinations to do the same. The key elements that contributed to the accreditation are water conservation, our grey water plant, power usage saved through the heat pump technology," added Tavener.
In 2012 Peermont Global Botswana Ltd ("PGB") embarked on Green Initiatives both from an Eco Tourism perspective and also as a means to save on energy and utility costs. In its bid to continue its commitment to environmentally sustainable solutions, Peermont Global Botswana completed the implementation of green initiatives such as the use of recycled paper, installation of water recycling plant, water flow restrictors, power saving devices, disposal of vapour lamps and placing 'save our planet' notifications. The hotel also replaced plastic laundry bags with linen laundry bags designed and made from the hotel's old sheets and converted power saving light bulbs to CFC's and LED's. Other green initiatives implemented include Heat Pump Water heating technology at a cost of nearly 3 million Pula (R 3 647 981.76) and continue to save up to 20 - 30% in power costs. The water recycling plant gives The Grand Palm the most extensive green lawns in Botswana, saving approximately P60 000 in water costs per month.
"We are cognizant of eliminating dangerous chemicals, and also continue to support our local communities through the 'support local' or 'buy local' policy. We will continue our commitment towards the implementation of sustainable management policies and environmentally sustainable solutions," concluded Tavener